Have you filled yours out yet? It is time to POWER UP!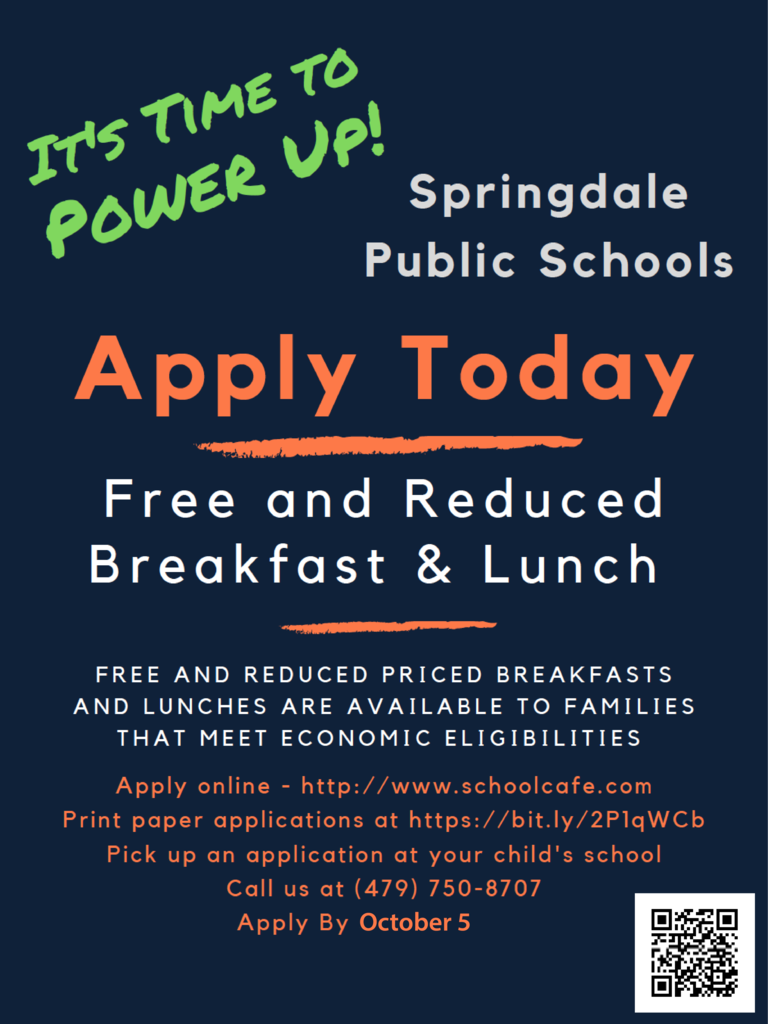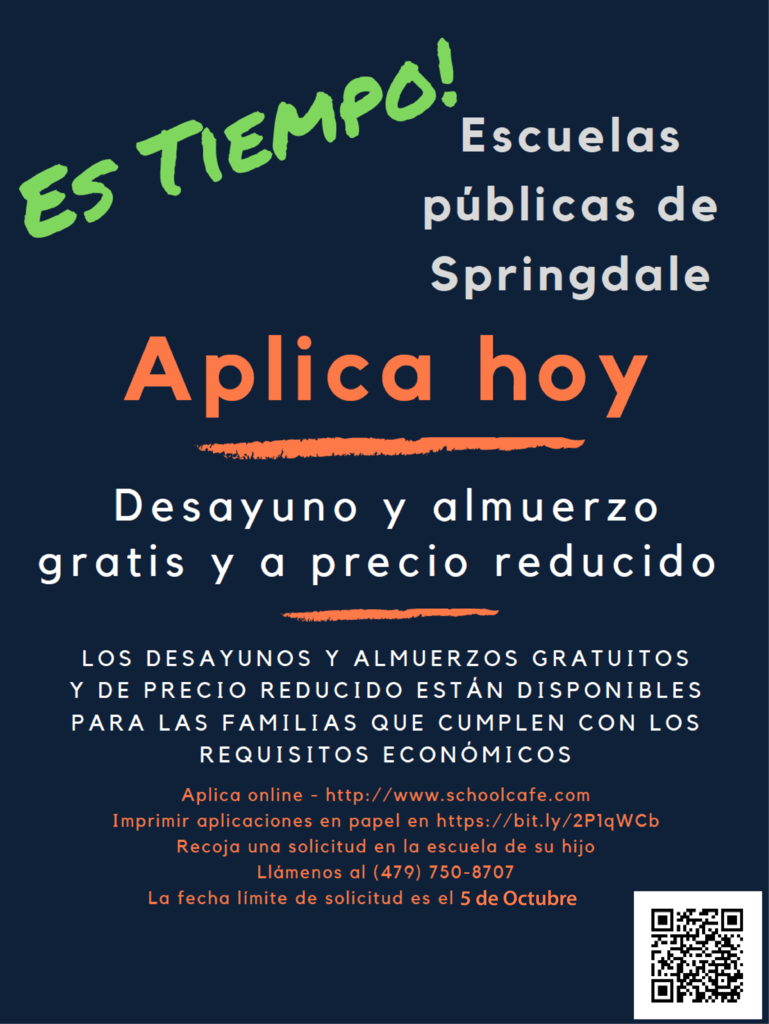 Ozark Guidance is hosting a virtual (zoom) parent/guardian night with Arisa Health and Promoting Positive Emotions: Coping with COVID-19: Brain Basics to Help Your Child & Yourself on Tuesday, October 20th at 6:00pm. See flyer for more information.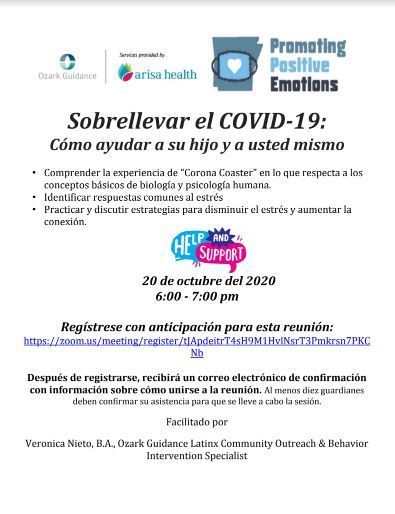 Parents please read this important flyer below to learn about free and reduced lunch. Please apply by October 5th. Padres, por favor lean este anuncio importante sobre almuerzos gratis y reducidos. Favor de aplicar para el 5 de Octubre.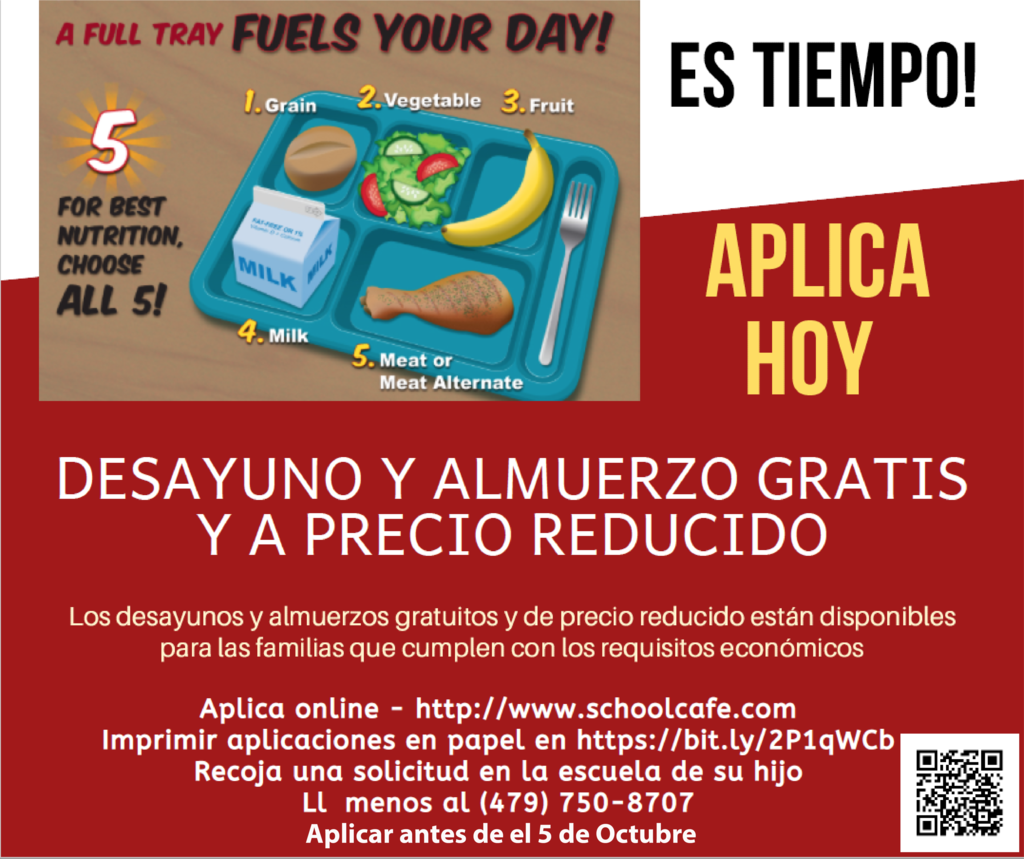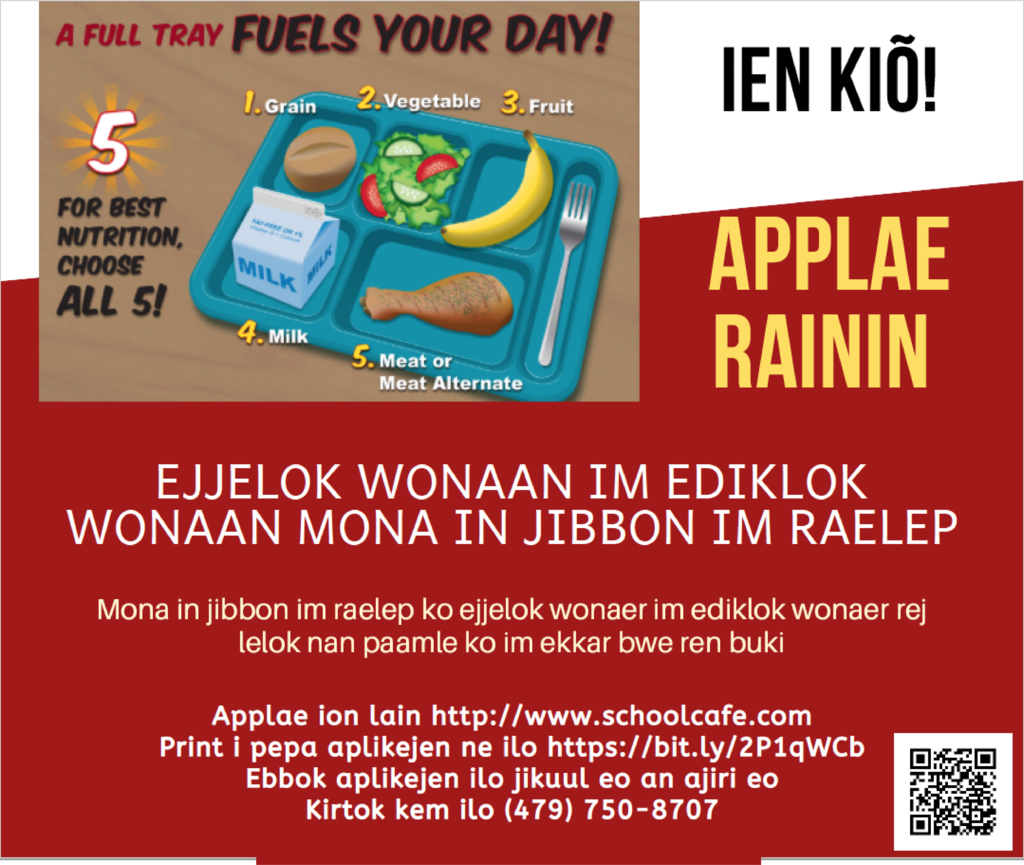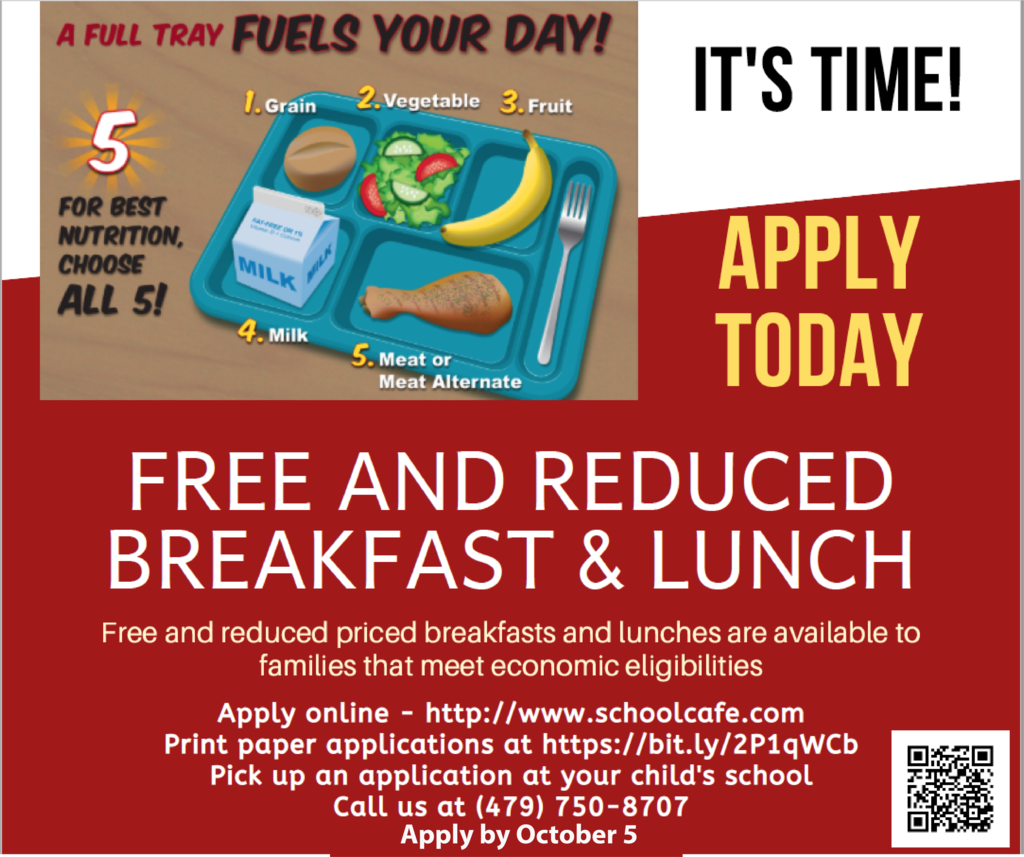 Knapp's Flu Clinic will be the morning of THURSDAY, October 15. Forms have been sent home and must be returned to receive the shot. If your child is a M-W-F blended student, you will need to bring them to school on that Thursday NO LATER THAN 9:30. Your child will be escorted to the clinic and taken to the front of the line for their vaccine, then returned to you. If you are unable to attend that day, Washington County Health Department will be holding a drive-thru clinic. La Clínica de Gripe de Knapp será la mañana del JUEVES, 15 de octubre. Los formularios se enviaron a casa y deben devolverse para recibir la vacuna. Si su hijo es un estudiante mixto de lunes a viernes, tendrá que traerlo a la escuela ese jueves NO MÁS TARDE DE las 9:30. Su hijo será escoltado a la clínica y llevado al frente de la fila para recibir la vacuna y luego se lo regresará a usted. Si no puede asistir ese día, el Departamento de Salud del Condado de Washington llevará a cabo una clínica de autoservicio.

Our first orientation will be at Childers Knapp Elementary this Thursday, September 24th at 3:30! We will meet in the front of the school. Please wear your mask!😷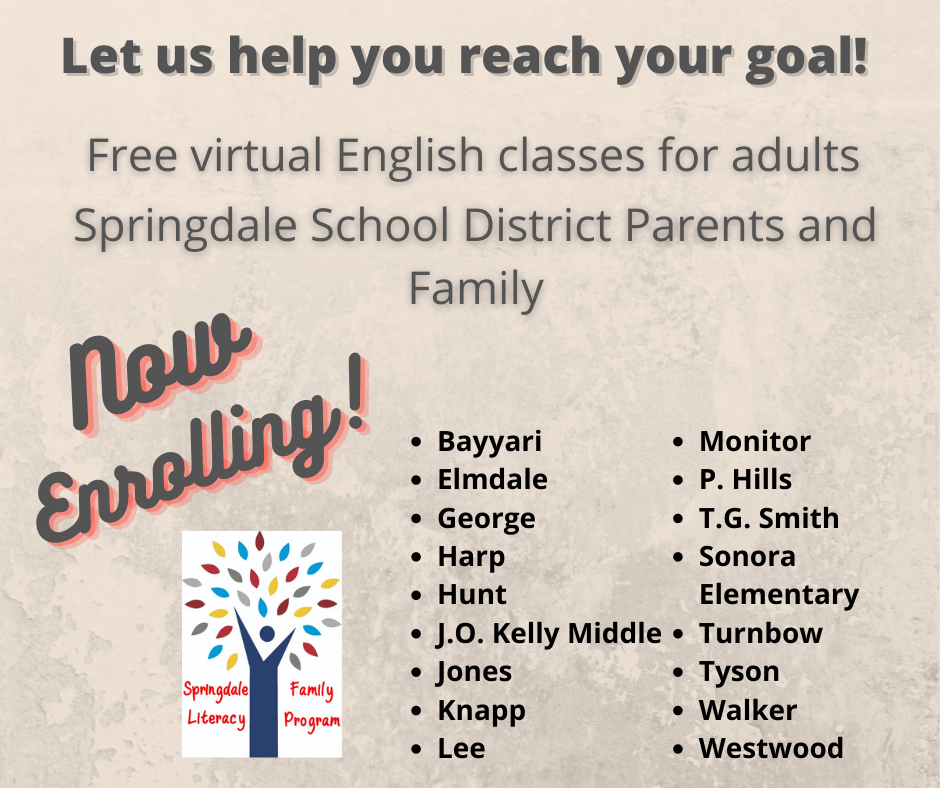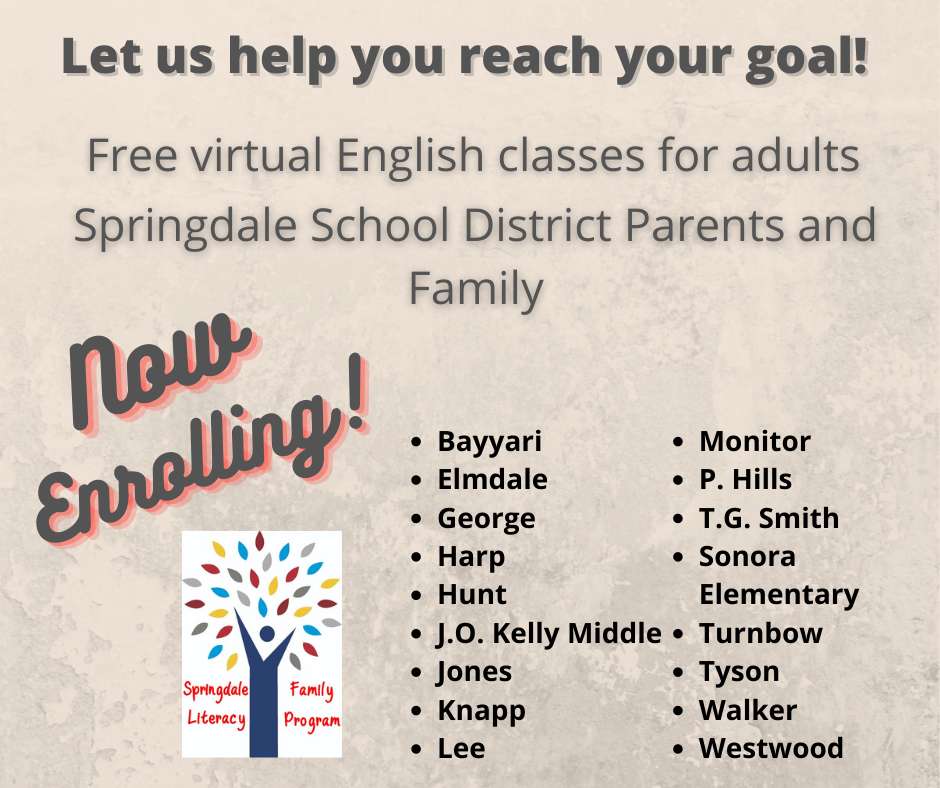 Favor de llenar el formulario de almuerzos gratis y reducidos! Son más que solo almuerzos, también ayudan en apoyar a los programas de nuestro sistema escolar.

Please fill out Free and Reduced Lunch forms! It is more than meals, it also helps important programs in the our school system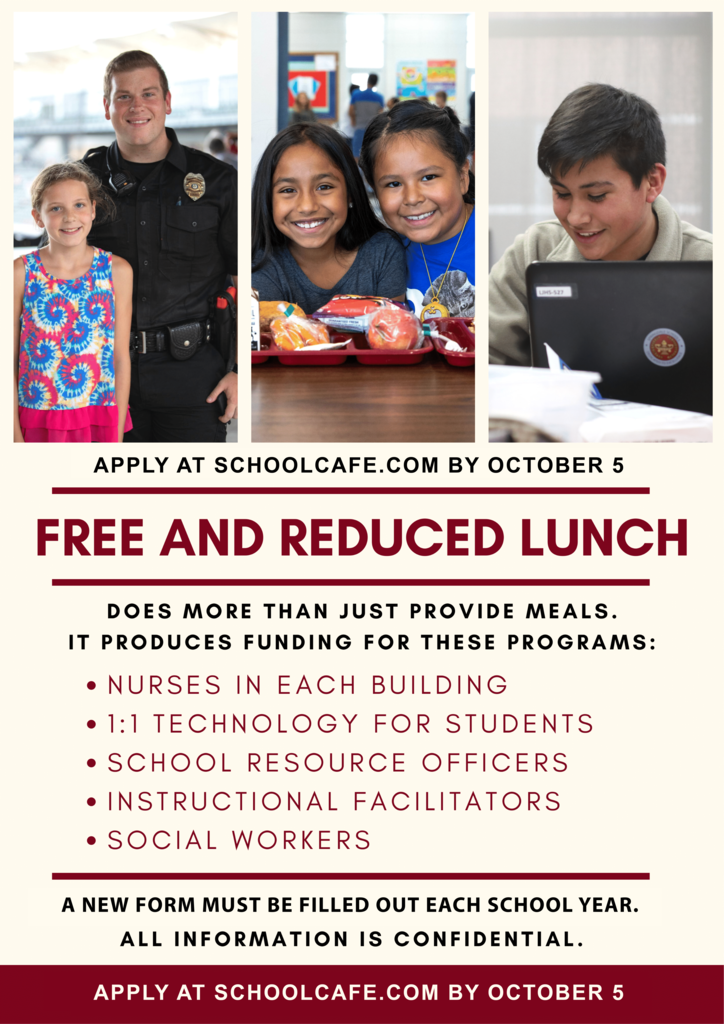 Padres, por favor lean el anuncio importante sobre almuerzos gratis y reducidos. ¡Es más que un almuerzo!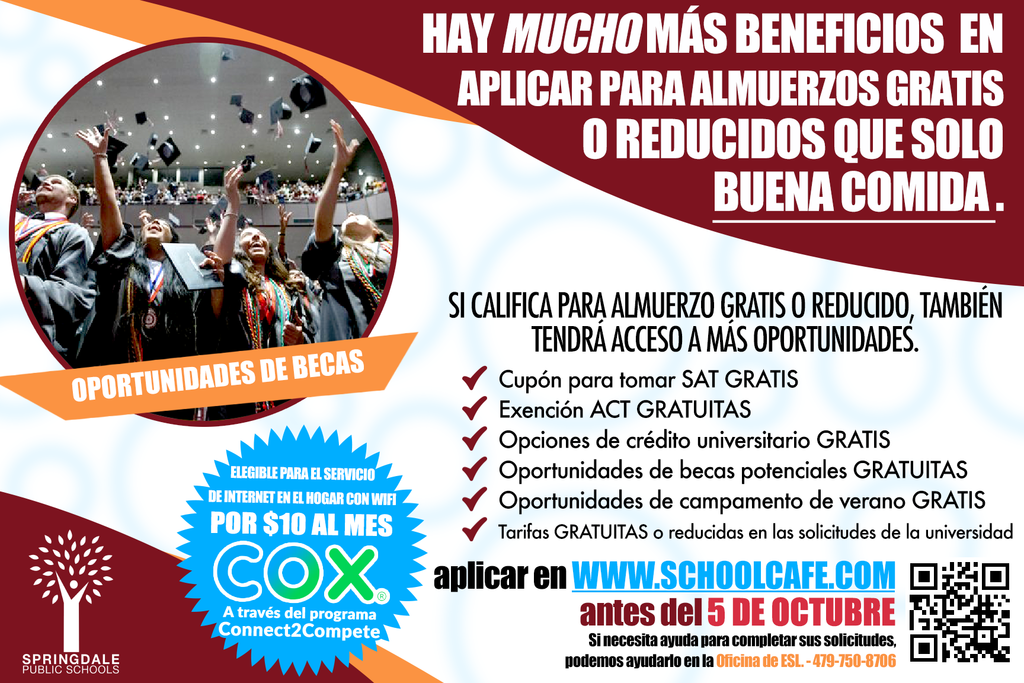 Parents, please read the important announcement about free and reduced lunch. More than just a meal!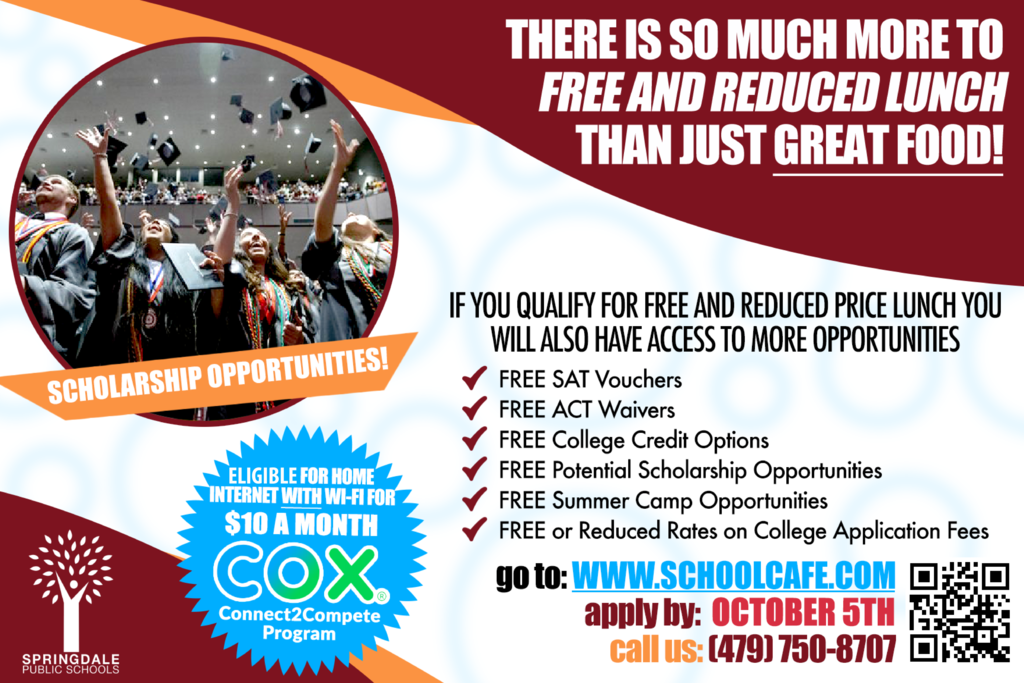 Remember there is no school on Monday, September 7th. Recuerde que no hay clases el lunes 7 de septiembre.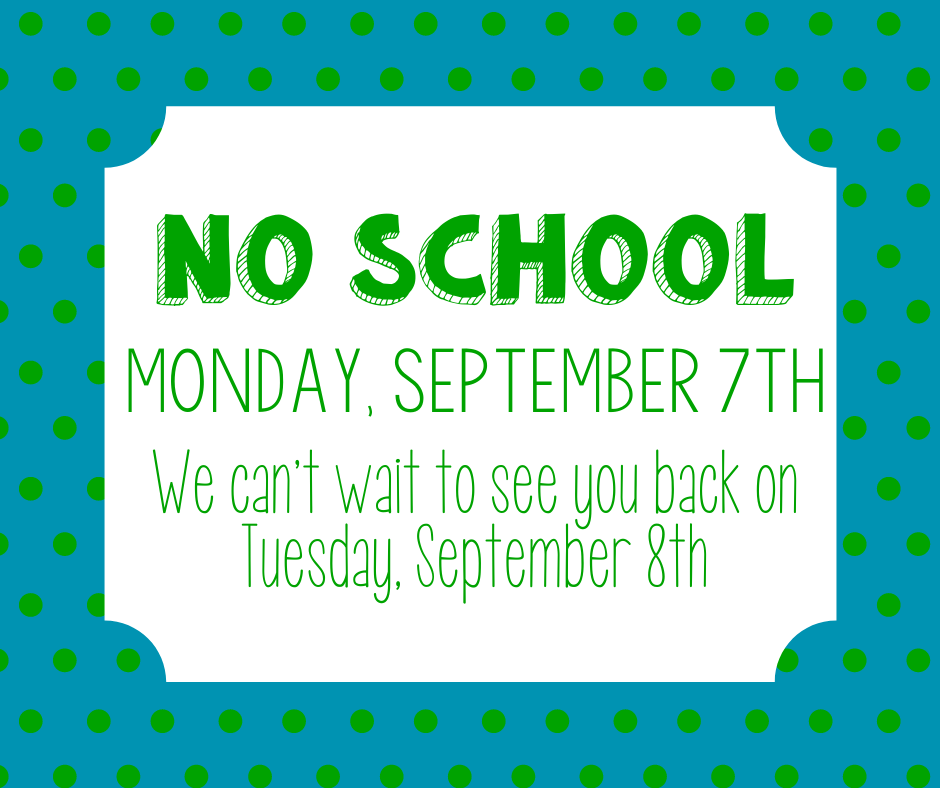 What a GREAT first day of school we had!Let's keep it up! Proud of our Gators and our Community.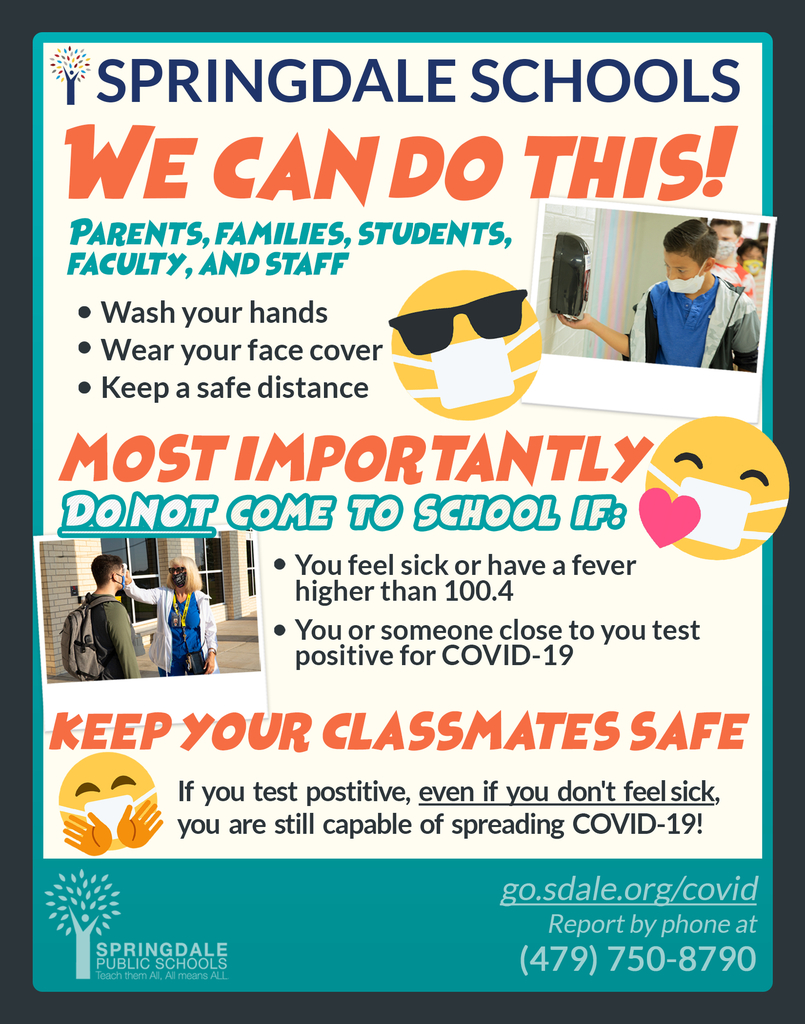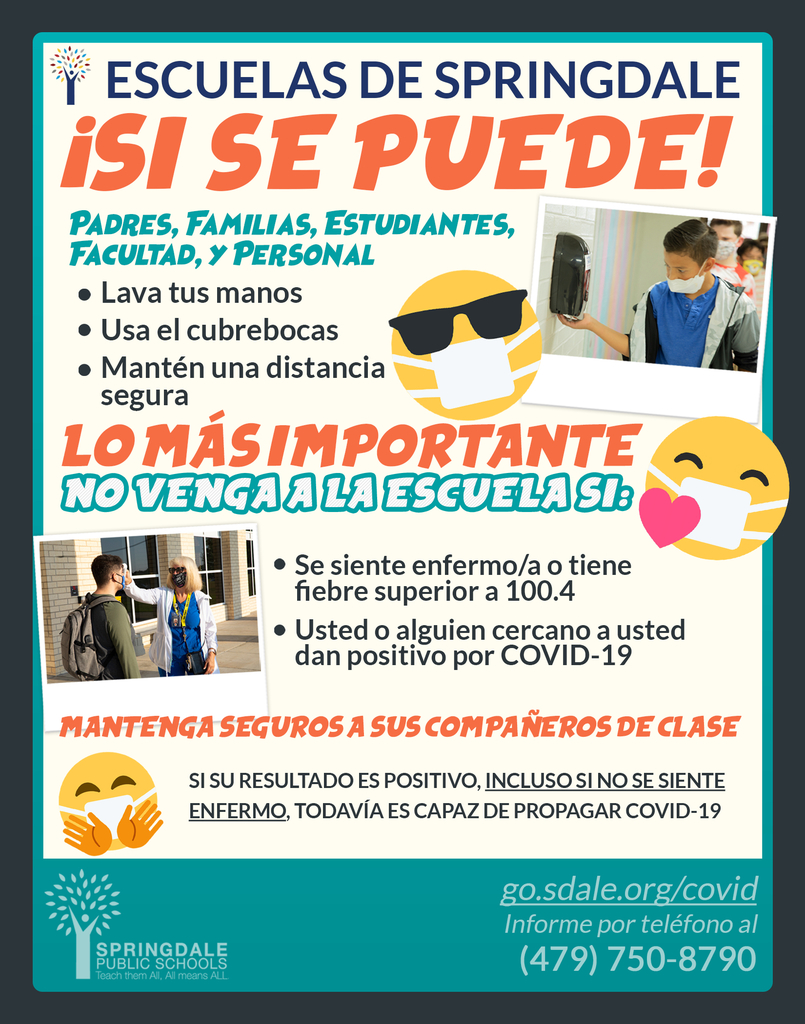 Happy First Day of School Eve! We have new arrival and dismissal procedures this year. Car rider drop-off and pick-up will be in the back of the school. Thank you for your understanding and patience! Here are a few helpful tips! - Do not block the entrance and exit to the parking lot at any time while in the line. - There will only be 1 lane of traffic. - We will load and unload 15 cars at a time. Stay in the line at all times. - Car tags will be going home tomorrow. After tomorrow you must have your car tag to pick up your child. Please keep car tag posted on passenger side and visible to staff the entire time you're in line. ¡Feliz primer día de víspera de clases! Tenemos nuevos procedimientos de llegada y salida este año. La entrega y recogida de los pasajeros en automóvil será en la parte trasera de la escuela. ¡Gracias por su comprensión y paciencia! ¡Aquí hay algunos consejos útiles! - No bloquee la entrada y salida del estacionamiento en ningún momento mientras esté en la fila. - Solo habrá 1 carril de tráfico. - Cargaremos y descargaremos 15 autos a la vez. Permanezca en la fila en todo momento. - Las etiquetas del coche se irán a casa mañana. Después de mañana debe tener la etiqueta de su automóvil para recoger a su hijo. Mantenga la etiqueta del automóvil colocada en el lado del pasajero y visible para el personal durante todo el tiempo que esté en la fila.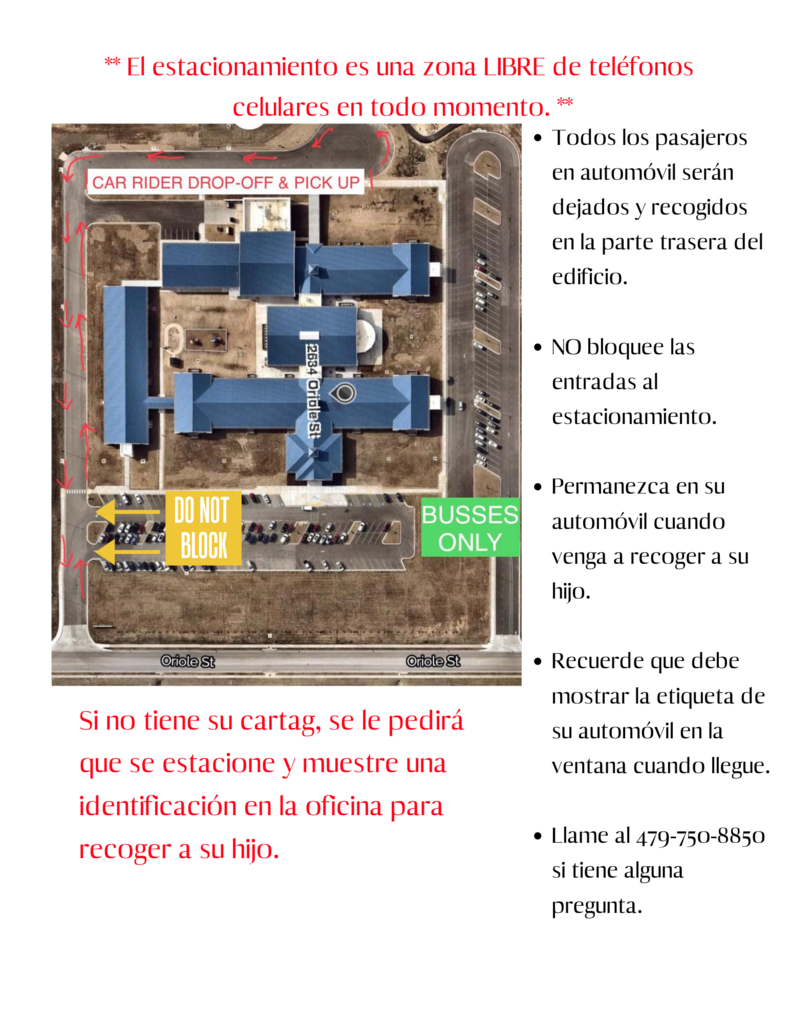 We can't wait for school to start next week! This year will look different and we want to make sure you and your child are prepared! This link has helpful videos and links for back to school. Here are a few important reminders: -Please remember that no parents will be allowed in the building. -Car rider drop-off and pick-up will be in the back of the building. Do not block the entrance or exit to the parking lot. ¡No podemos esperar a que comience la escuela la próxima semana! ¡Este año se verá diferente y queremos asegurarnos de que usted y su hijo estén preparados! Este enlace tiene videos útiles y enlaces para el regreso a clases. A continuación, se incluyen algunos recordatorios importantes: -Recuerde que no se permitirán padres en el edificio. -La entrega y recogida de los pasajeros se realizarán en la parte trasera del edificio. No bloquee la entrada o salida del estacionamiento.
http://bit.ly/cke20-21b2s

Free Childcare for Essential Workers while funds last. Please follow the prompts below. Taking care of our essential workers is another reason why Springdale Schools is #THEChoice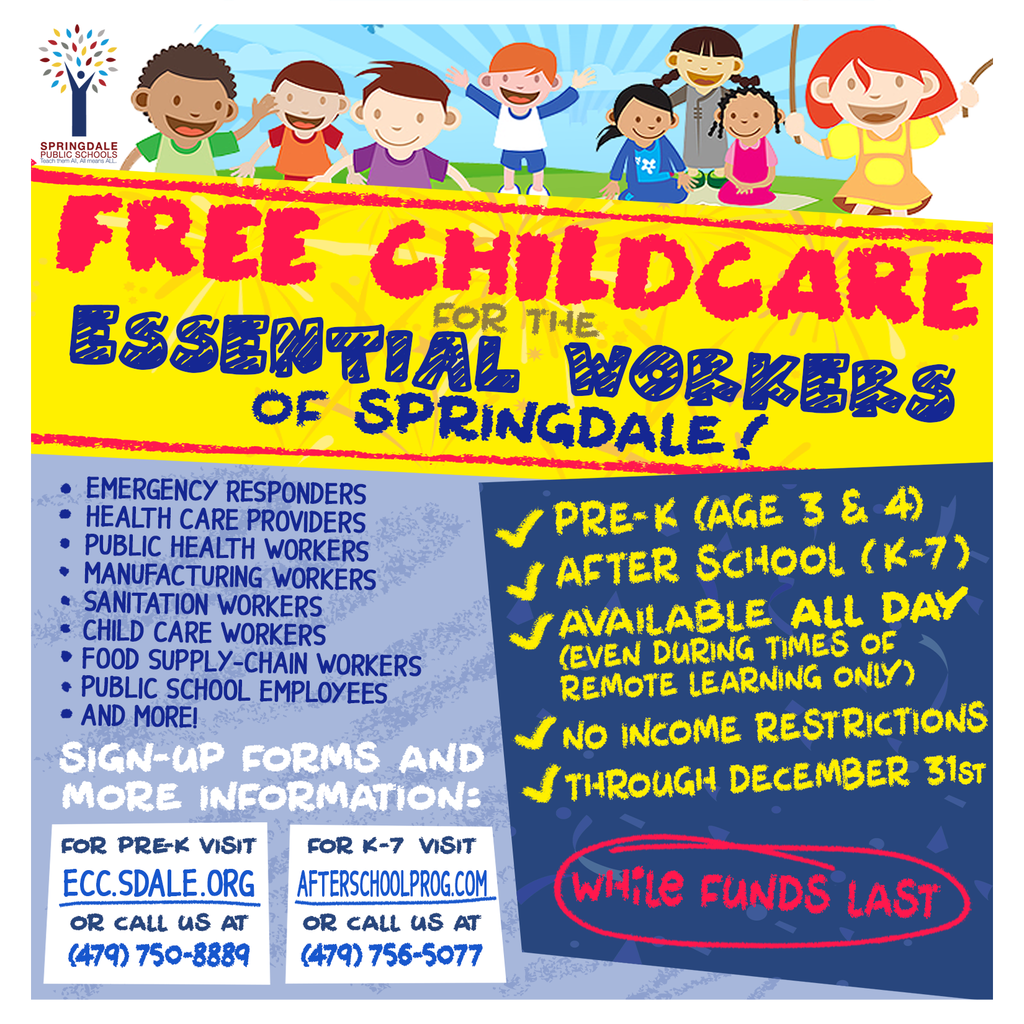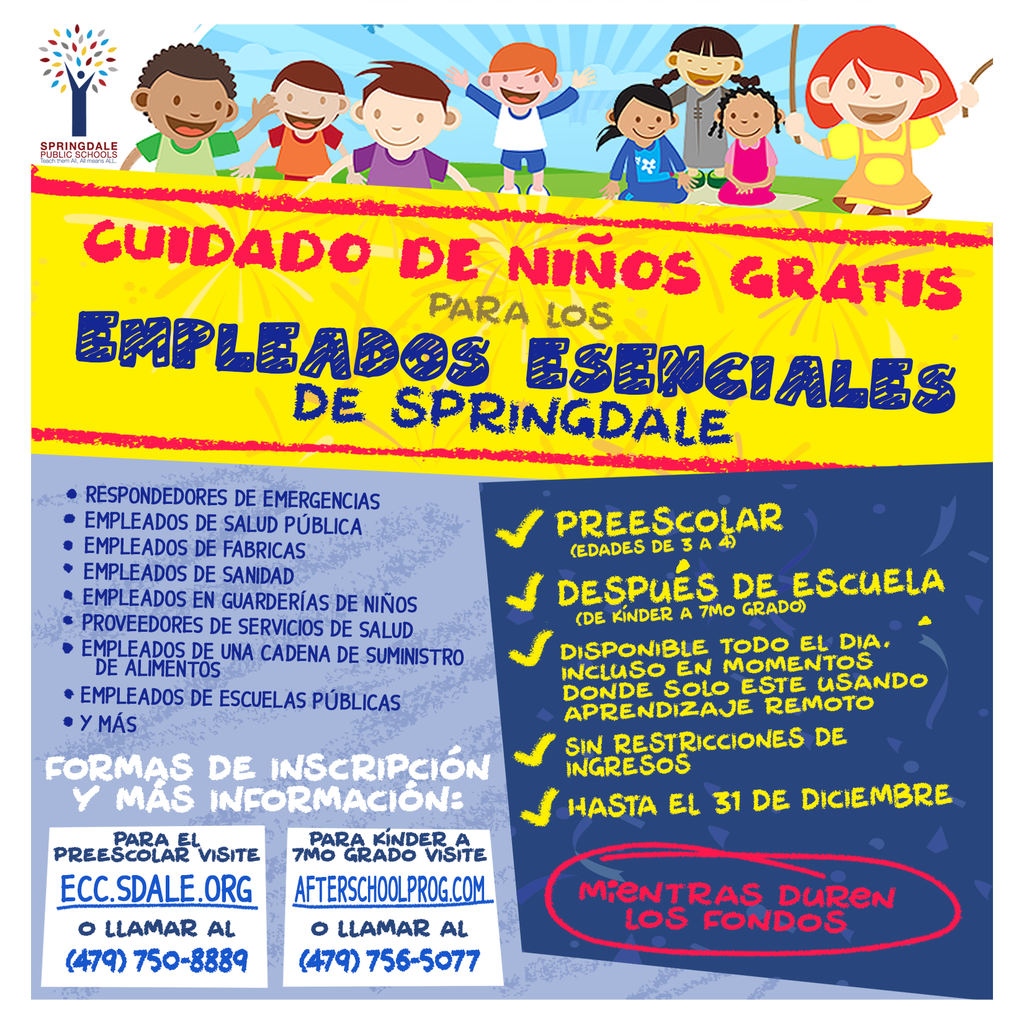 Community Clinic will be hosting a Vaccine Clinic THIS Friday, August 21 from 1:30 - 4:30 at the Wellness Center at Jones Elementary. All children - with or without insurance including private insurance and Medicaid are welcome to attend and appointments are not required.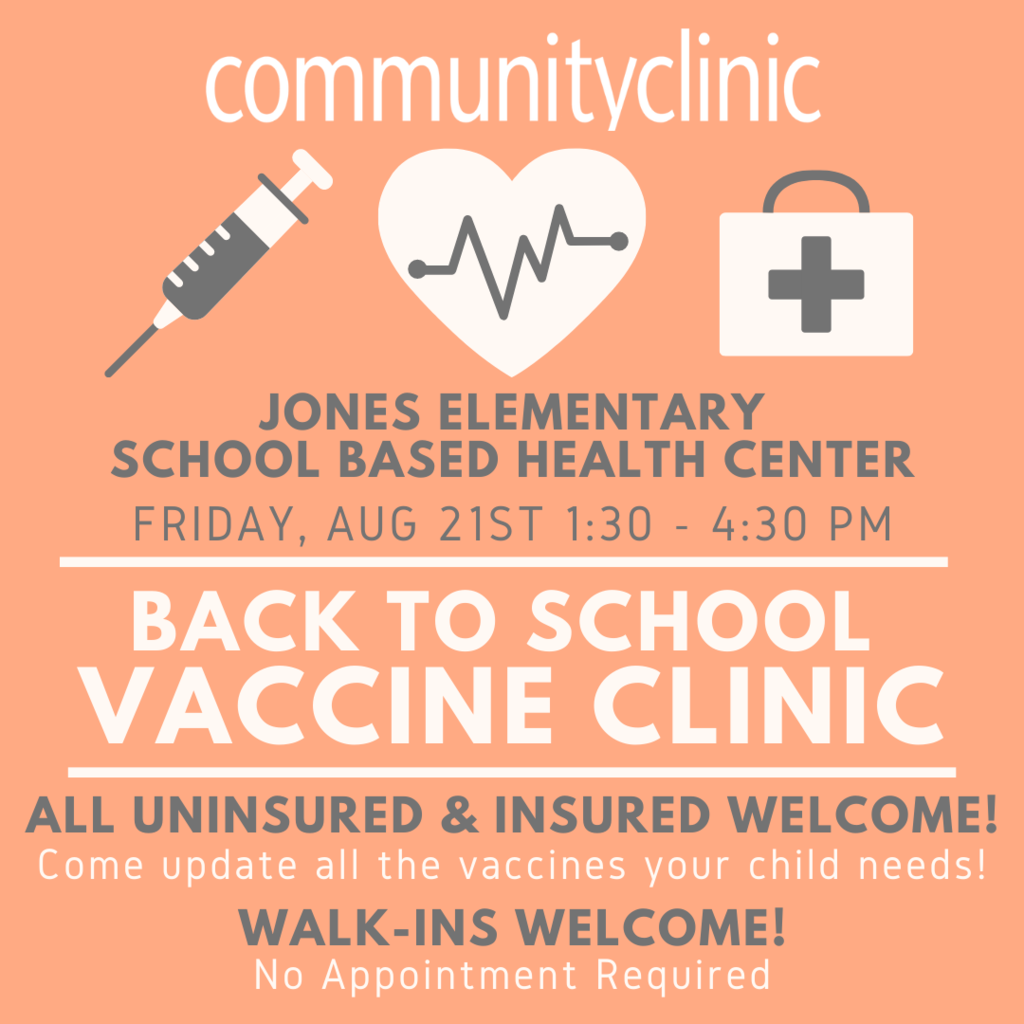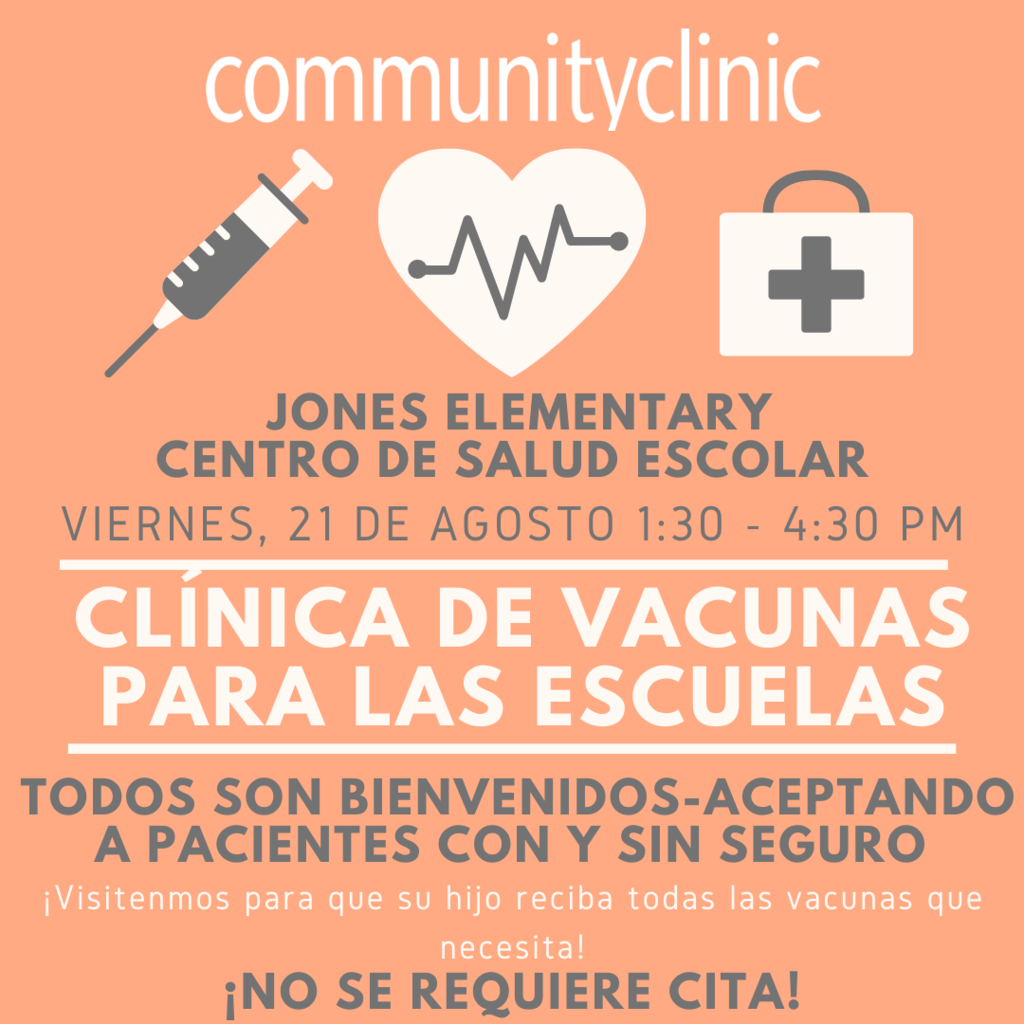 We can't wait to see you for drive-thru open houses this week! Kinder - Today from 1-3 PM 1st - Today from 4-5 PM 2nd - Thursday from 4-5 PM 3rd - Wednesday from 4-5 PM 4th - Tuesday from 4-5 PM 5th - Thursday from 5:30-6:30 PM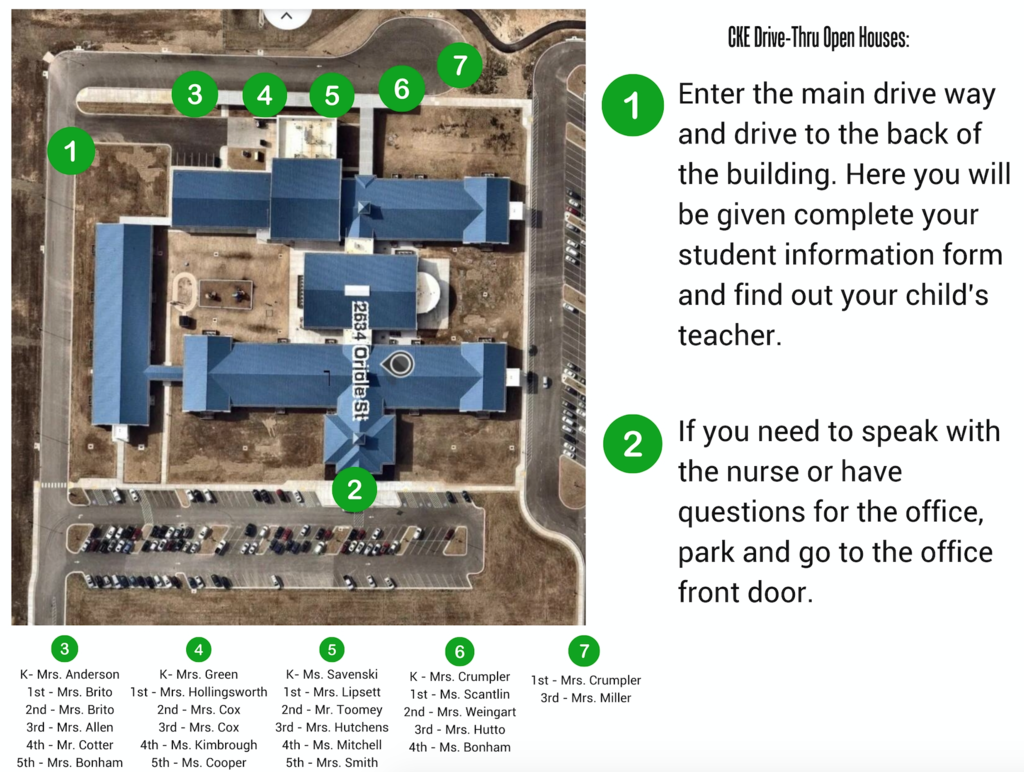 We are so excited to get back to school and see our gators! We will be having drive-thru open houses for each grade level behind the school on the following days: