DTSOI Virtual Health Powered by Community Clinic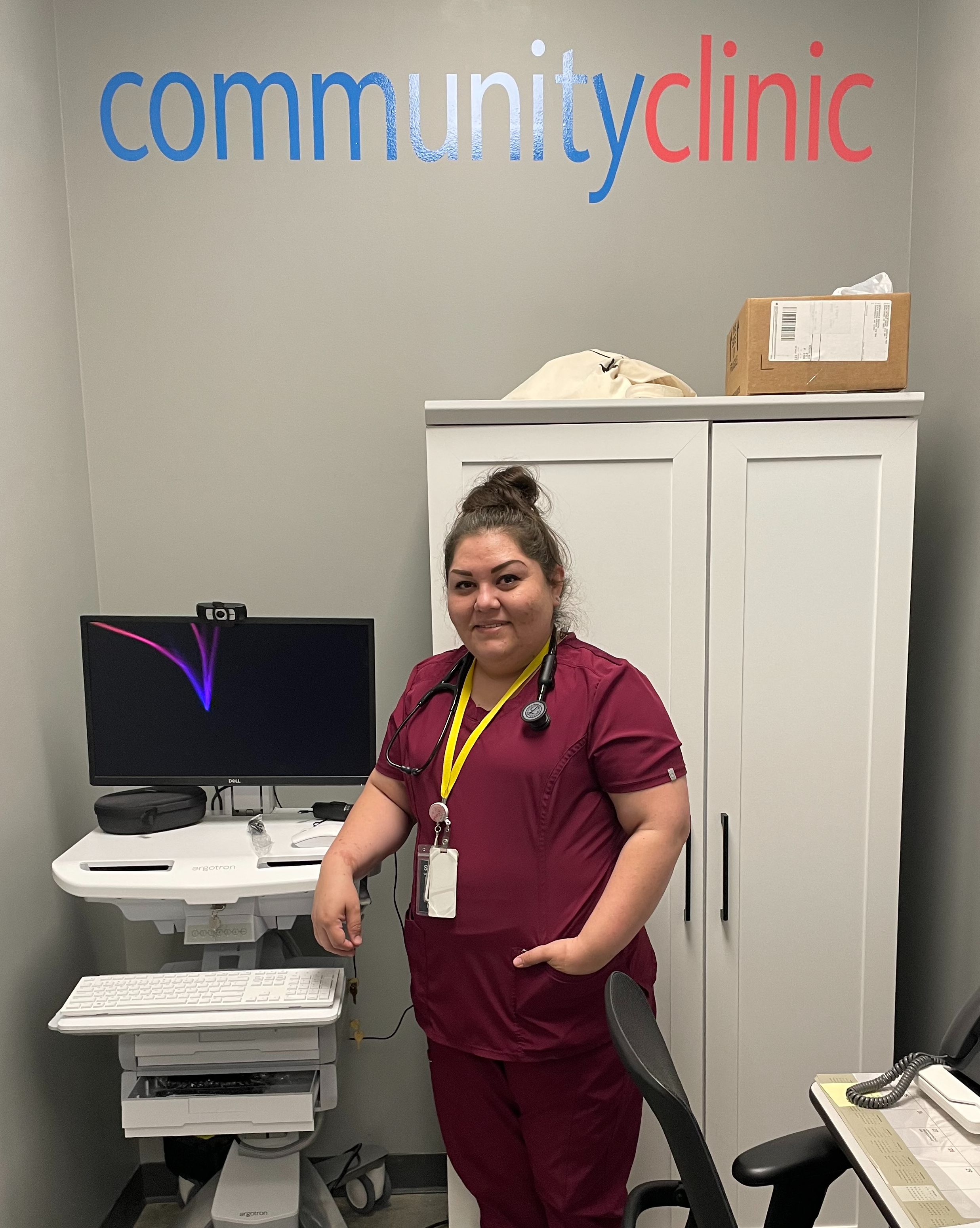 Meet our on-site Medical Assistant Lupita Jimenez
Located on the EAST entrance of the Don Tyson School of Innovation (nurse office)
Phone: (479) 334-4655
Hours: Monday-Friday 8:00-4:30
What is a Virtual Clinic?
The Virtual Clinic is a service that uses a telehealth platform to connect you to a Community Clinic provider!

Both you and your provider can see and hear each other. There is even special equipment that allows the provider to listen to the your heart and lungs and examine your ears & throat!

An on-site medical assistant will guide you through your visit and perform any tests ordered by your provider
What
services are offered at the Virtual Clinic?
Illness and Minor Injuries. Your symptoms may include:

Fever

Sore throat

Earache

Stomach pain

Rash

Allergies

Joint or muscle pain

Chronic Disease Management or Education

Medication Refills

Lab Reviews

Lab work or x-rays would be performed at one of Community Clinic's main clinics or School Based Health Centers

Bloodwork and x-rays are not performed at the virtual clinic

Mild to Moderate Mental Health Concerns and Ongoing ADHD Management
If you have insurance, Community Clinic will file a claim to your insurance company. Different insurance companies have different regulations regarding telehealth

If you have Medicaid or ARKids, you will need to assign Community Clinic as your PCP or obtain a referral from your existing PCP to have a visit at the virtual clinic

Community Clinic offers a discount program for insured and uninsured patients, please ask staff for details
How do I enroll my child as a patient?
Register as a Community Clinic Patient by clicking on the link below:
When the registration process is complete, simply stop by the virtual clinic to request an appointment time. (For student appointments, Community Clinic staff will communicate with parents regarding the appointment and any treatments or follow ups needed)

If parents would like to participate in the virtual visit, they can request that the Zoom link be sent to them for their child's appointment.
What are my options for alternative transportation?
Springdale school district can assist with transportation during the school day for students, with parental consent.

Please contact your school nurse to help arrange transportation.